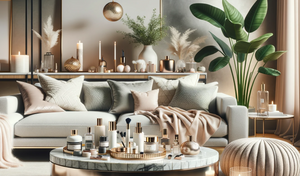 Ultimate Guide to Spoil-Worthy Presents
In a world that often feels too busy and chaotic, the art of pampering yourself and others stands out as a sanctuary of bliss and luxury. It's not just about buying a gift but crafting an experience that whispers, "You deserve all the goodness in the world." This guide is your golden ticket to finding spoil-worthy presents that will make anyone feel cherished and adored. 
1. Understand the Art of Pampering
Pampering is a language of love. It's about understanding the recipient's desires and responding to them with something that's not just needed but sincerely wanted. It's the difference between gifting a necessity and presenting a luxury.
2. Luxury Spa Experiences
Nothing says pampering like a spa day. Consider gifting a luxury spa voucher – a passport to relaxation. Whether it's a full-body massage, a rejuvenating facial, or a calming aromatherapy session, these experiences escape the daily grind.
3. Gourmet Delights
Pampering the palate. Indulge someone with a gourmet gift basket filled with artisanal chocolates, fine wines, and exotic teas. It's a journey of taste, a treat that elevates the everyday to something extraordinary.
4. Personalized Jewelry
Add a sparkle with personalized jewelry. Custom-made pieces engraved with a name, a special date, or a heartfelt message can become cherished keepsakes, treasured for their sentiment and beauty.
5. Tech Gadgets for Leisure
For the tech enthusiast, luxury is in the latest gadget. Think high-end headphones for the music lover, a state-of-the-art e-reader for the bookworm, or a smartwatch for the fitness enthusiast. It's about adding comfort and convenience to their hobbies.
6. Home Spa Essentials
Bring the spa home. Luxurious bath oils, plush robes, and scented candles can transform a regular bathroom into a personal spa. It's an invitation to unwind and relax in the comfort of home.
7. Bespoke Experiences
Experiences tailored to their interests. A private cooking class with a renowned chef, a hot air balloon ride, or tickets to a sought-after event. These experiences are not just gifts; they're memories in the making.
8. High-End Fashion and Accessories
Fashion speaks volumes. A designer handbag, a silk scarf, or a pair of bespoke shoes can be the ultimate pampering gift for the fashion-forward.
9. Subscription Services
The gift that keeps on giving. Consider premium subscription services – monthly book clubs, gourmet food deliveries, or exclusive wine clubs. These gifts offer a continuous experience of indulgence.
10. The Importance of Presentation
Last but not least, presentation matters. The effort put into wrapping a gift reflects the thought behind it. Opt for elegant packaging, a hand-written note, and a flourish of creativity to make the unwrapping as delightful as the gift itself.
Conclusion
Pampering is an art form. It's about creating moments of joy, relaxation, and indulgence. Whether it's for a special occasion or just because a spoil-worthy present is a testament to the love and appreciation you hold for someone. Remember, in the end, the best gifts make the recipient feel seen, heard, and utterly pampered.
---